US Home Prices Drop For 7th Consecutive Month; Real Estate Stocks Hit Lowest Levels Since October 2022
BY Benzinga

|

ECONOMIC

|

03/28/23 11:10 AM EDT
The value of residential real estate in 20 major U.S. metropolitan cities, as measured by the S&P CoreLogic Case-Shiller Home Price Index, continues its downward trend and recorded an average decline of 0.6% in January, marking the seventh consecutive month of losses.
On an annual basis, the residential property price index rose by 2.5%, the lowest increase since November 2019, but in line with expectations.
Miami (13.8%), Tampa (10.5%), and Atlanta (8.4%) posted the strongest year-over-year rise, but price drops were recorded in San Francisco (down 7.6%), Seattle (down 5.1%), San Diego (down 1.4%) and Portland (down 0.5%).
A different indicator, the House Price Index, which measures the seasonally adjusted change in average prices of single-family houses with mortgages guaranteed by Fannie Mae and Freddie Mac, rose 0.2% monthly or 5.3% annually in January, according to the Federal Housing Finance Agency (FHFA).
"Many of the January closings, on which this month's HPI is constructed, reflect rate locks after mortgage rates declined from their peak in early November. Inventories of available homes for sale remained low," said Dr. Nataliya Polkovnichenko, Supervisory Economist, in FHFA's Division of Research and Statistics.
Read more: 3 Winners And 3 Losers In Real Estate As Pressure Grows On Commercial Properties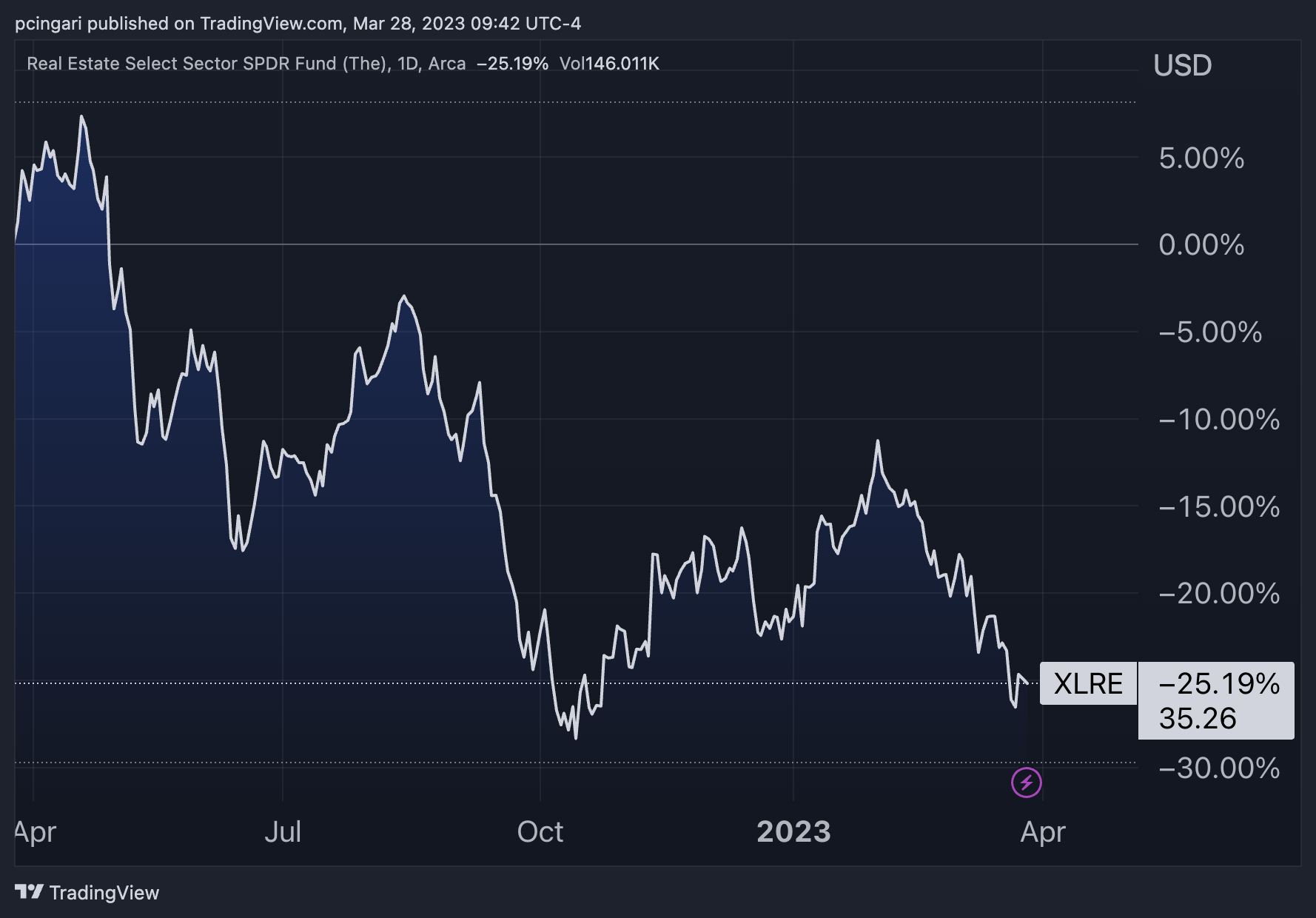 Real Estate Shares Are Down 25% From A Year Ago
When looking at the performance of the Real Estate Select Sector SPDR Fund (NYSE:XLRE), real estate stocks have lost on average 25% compared to a year ago, and are now hovering near 6-month lows. Over the past month, the ETF has lost 7% of its value.
VICI Properties Inc. (NYSE:VICI) is the only XLRE component screening a positive performance in the last year, up 21%.
Companies more exposed to the commercial real estate market have been the worst performers in the past year, with Boston Properties Inc. (NYSE:BXP) down 59%, Essex Property Trust (NYSE:ESS) down 39% and Camden Property Trust (NYSE:CPT) down 38%.
Read next: How to Invest in Real Estate Online
Photo: Shutterstock